Datsun Pickup Technical Info
Datsun L320 / NL320
Datsun 520 / 521
Datsun 620
Datsun 720
25
https://forums.nicoclub.com/viewtopic.php?p=6838992#p6838992
https://forums.nicoclub.com/viewtopic.php?p=6836086#p6836086
https://forums.nicoclub.com/viewtopic.php?p=6836022#p6836022
https://forums.nicoclub.com/viewtopic.php?p=6835999#p6835999
https://forums.nicoclub.com/viewtopic.php?p=6835997#p6835997
https://forums.nicoclub.com/viewtopic.php?p=6835996#p6835996
https://forums.nicoclub.com/viewtopic.php?p=6835983#p6835983
https://forums.nicoclub.com/viewtopic.php?p=6835967#p6835967
https://forums.nicoclub.com/viewtopic.php?p=6835412#p6835412
https://forums.nicoclub.com/viewtopic.php?p=6835050#p6835050
https://forums.nicoclub.com/viewtopic.php?p=6835049#p6835049
https://forums.nicoclub.com/viewtopic.php?p=6835046#p6835046
https://forums.nicoclub.com/viewtopic.php?p=6834970#p6834970
https://forums.nicoclub.com/viewtopic.php?p=6834401#p6834401
https://forums.nicoclub.com/viewtopic.php?p=6834310#p6834310
https://forums.nicoclub.com/viewtopic.php?p=6834301#p6834301
https://forums.nicoclub.com/viewtopic.php?p=6834281#p6834281
https://forums.nicoclub.com/viewtopic.php?p=6834273#p6834273
https://forums.nicoclub.com/viewtopic.php?p=6834138#p6834138
https://forums.nicoclub.com/viewtopic.php?p=6834136#p6834136
https://forums.nicoclub.com/viewtopic.php?p=6834122#p6834122
https://forums.nicoclub.com/viewtopic.php?p=6831621#p6831621
https://forums.nicoclub.com/viewtopic.php?p=6831618#p6831618
https://forums.nicoclub.com/viewtopic.php?p=6831615#p6831615
https://forums.nicoclub.com/viewtopic.php?p=6831537#p6831537
Array
(
    [0] => https://forums.nicoclub.com/viewtopic.php?p=6838992#p6838992
    [1] => https://forums.nicoclub.com/viewtopic.php?p=6836086#p6836086
    [2] => https://forums.nicoclub.com/viewtopic.php?p=6836022#p6836022
    [3] => https://forums.nicoclub.com/viewtopic.php?p=6835999#p6835999
    [4] => https://forums.nicoclub.com/viewtopic.php?p=6835997#p6835997
    [5] => https://forums.nicoclub.com/viewtopic.php?p=6835996#p6835996
    [6] => https://forums.nicoclub.com/viewtopic.php?p=6835983#p6835983
    [7] => https://forums.nicoclub.com/viewtopic.php?p=6835967#p6835967
    [8] => https://forums.nicoclub.com/viewtopic.php?p=6835412#p6835412
    [9] => https://forums.nicoclub.com/viewtopic.php?p=6835050#p6835050
    [10] => https://forums.nicoclub.com/viewtopic.php?p=6835049#p6835049
    [11] => https://forums.nicoclub.com/viewtopic.php?p=6835046#p6835046
    [12] => https://forums.nicoclub.com/viewtopic.php?p=6834970#p6834970
    [13] => https://forums.nicoclub.com/viewtopic.php?p=6834401#p6834401
    [14] => https://forums.nicoclub.com/viewtopic.php?p=6834310#p6834310
    [15] => https://forums.nicoclub.com/viewtopic.php?p=6834301#p6834301
    [16] => https://forums.nicoclub.com/viewtopic.php?p=6834281#p6834281
    [17] => https://forums.nicoclub.com/viewtopic.php?p=6834273#p6834273
    [18] => https://forums.nicoclub.com/viewtopic.php?p=6834138#p6834138
    [19] => https://forums.nicoclub.com/viewtopic.php?p=6834136#p6834136
    [20] => https://forums.nicoclub.com/viewtopic.php?p=6834122#p6834122
    [21] => https://forums.nicoclub.com/viewtopic.php?p=6831621#p6831621
    [22] => https://forums.nicoclub.com/viewtopic.php?p=6831618#p6831618
    [23] => https://forums.nicoclub.com/viewtopic.php?p=6831615#p6831615
    [24] => https://forums.nicoclub.com/viewtopic.php?p=6831537#p6831537
)

25
https://forums.nicoclub.com/viewtopic.php?p=6833278#p6833278
https://forums.nicoclub.com/viewtopic.php?p=6833268#p6833268
https://forums.nicoclub.com/viewtopic.php?p=6833251#p6833251
https://forums.nicoclub.com/viewtopic.php?p=6832864#p6832864
https://forums.nicoclub.com/viewtopic.php?p=6832858#p6832858
https://forums.nicoclub.com/viewtopic.php?p=6832857#p6832857
https://forums.nicoclub.com/viewtopic.php?p=6832856#p6832856
https://forums.nicoclub.com/viewtopic.php?p=6832853#p6832853
https://forums.nicoclub.com/viewtopic.php?p=6832838#p6832838
https://forums.nicoclub.com/viewtopic.php?p=6832831#p6832831
https://forums.nicoclub.com/viewtopic.php?p=6824280#p6824280
https://forums.nicoclub.com/viewtopic.php?p=6820609#p6820609
https://forums.nicoclub.com/viewtopic.php?p=6816337#p6816337
https://forums.nicoclub.com/viewtopic.php?p=6816335#p6816335
https://forums.nicoclub.com/viewtopic.php?p=6805964#p6805964
https://forums.nicoclub.com/viewtopic.php?p=6805959#p6805959
https://forums.nicoclub.com/viewtopic.php?p=6805945#p6805945
https://forums.nicoclub.com/viewtopic.php?p=6805911#p6805911
https://forums.nicoclub.com/viewtopic.php?p=6805910#p6805910
https://forums.nicoclub.com/viewtopic.php?p=6805878#p6805878
https://forums.nicoclub.com/viewtopic.php?p=6805877#p6805877
https://forums.nicoclub.com/viewtopic.php?p=6804606#p6804606
https://forums.nicoclub.com/viewtopic.php?p=6804585#p6804585
https://forums.nicoclub.com/viewtopic.php?p=6804307#p6804307
https://forums.nicoclub.com/viewtopic.php?p=6804261#p6804261
Array
(
    [0] => https://forums.nicoclub.com/viewtopic.php?p=6833278#p6833278
    [1] => https://forums.nicoclub.com/viewtopic.php?p=6833268#p6833268
    [2] => https://forums.nicoclub.com/viewtopic.php?p=6833251#p6833251
    [3] => https://forums.nicoclub.com/viewtopic.php?p=6832864#p6832864
    [4] => https://forums.nicoclub.com/viewtopic.php?p=6832858#p6832858
    [5] => https://forums.nicoclub.com/viewtopic.php?p=6832857#p6832857
    [6] => https://forums.nicoclub.com/viewtopic.php?p=6832856#p6832856
    [7] => https://forums.nicoclub.com/viewtopic.php?p=6832853#p6832853
    [8] => https://forums.nicoclub.com/viewtopic.php?p=6832838#p6832838
    [9] => https://forums.nicoclub.com/viewtopic.php?p=6832831#p6832831
    [10] => https://forums.nicoclub.com/viewtopic.php?p=6824280#p6824280
    [11] => https://forums.nicoclub.com/viewtopic.php?p=6820609#p6820609
    [12] => https://forums.nicoclub.com/viewtopic.php?p=6816337#p6816337
    [13] => https://forums.nicoclub.com/viewtopic.php?p=6816335#p6816335
    [14] => https://forums.nicoclub.com/viewtopic.php?p=6805964#p6805964
    [15] => https://forums.nicoclub.com/viewtopic.php?p=6805959#p6805959
    [16] => https://forums.nicoclub.com/viewtopic.php?p=6805945#p6805945
    [17] => https://forums.nicoclub.com/viewtopic.php?p=6805911#p6805911
    [18] => https://forums.nicoclub.com/viewtopic.php?p=6805910#p6805910
    [19] => https://forums.nicoclub.com/viewtopic.php?p=6805878#p6805878
    [20] => https://forums.nicoclub.com/viewtopic.php?p=6805877#p6805877
    [21] => https://forums.nicoclub.com/viewtopic.php?p=6804606#p6804606
    [22] => https://forums.nicoclub.com/viewtopic.php?p=6804585#p6804585
    [23] => https://forums.nicoclub.com/viewtopic.php?p=6804307#p6804307
    [24] => https://forums.nicoclub.com/viewtopic.php?p=6804261#p6804261
)

25
https://forums.nicoclub.com/viewtopic.php?p=6835385#p6835385
https://forums.nicoclub.com/viewtopic.php?p=6835334#p6835334
https://forums.nicoclub.com/viewtopic.php?p=6835324#p6835324
https://forums.nicoclub.com/viewtopic.php?p=6833791#p6833791
https://forums.nicoclub.com/viewtopic.php?p=6833786#p6833786
https://forums.nicoclub.com/viewtopic.php?p=6833782#p6833782
https://forums.nicoclub.com/viewtopic.php?p=6828679#p6828679
https://forums.nicoclub.com/viewtopic.php?p=6828585#p6828585
https://forums.nicoclub.com/viewtopic.php?p=6828196#p6828196
https://forums.nicoclub.com/viewtopic.php?p=6826516#p6826516
https://forums.nicoclub.com/viewtopic.php?p=6817538#p6817538
https://forums.nicoclub.com/viewtopic.php?p=6817523#p6817523
https://forums.nicoclub.com/viewtopic.php?p=6816376#p6816376
https://forums.nicoclub.com/viewtopic.php?p=6816289#p6816289
https://forums.nicoclub.com/viewtopic.php?p=6815931#p6815931
https://forums.nicoclub.com/viewtopic.php?p=6815827#p6815827
https://forums.nicoclub.com/viewtopic.php?p=6813910#p6813910
https://forums.nicoclub.com/viewtopic.php?p=6813908#p6813908
https://forums.nicoclub.com/viewtopic.php?p=6812167#p6812167
https://forums.nicoclub.com/viewtopic.php?p=6812134#p6812134
https://forums.nicoclub.com/viewtopic.php?p=6812127#p6812127
https://forums.nicoclub.com/viewtopic.php?p=6812123#p6812123
https://forums.nicoclub.com/viewtopic.php?p=6812115#p6812115
https://forums.nicoclub.com/viewtopic.php?p=6812114#p6812114
https://forums.nicoclub.com/viewtopic.php?p=6812112#p6812112
Array
(
    [0] => https://forums.nicoclub.com/viewtopic.php?p=6835385#p6835385
    [1] => https://forums.nicoclub.com/viewtopic.php?p=6835334#p6835334
    [2] => https://forums.nicoclub.com/viewtopic.php?p=6835324#p6835324
    [3] => https://forums.nicoclub.com/viewtopic.php?p=6833791#p6833791
    [4] => https://forums.nicoclub.com/viewtopic.php?p=6833786#p6833786
    [5] => https://forums.nicoclub.com/viewtopic.php?p=6833782#p6833782
    [6] => https://forums.nicoclub.com/viewtopic.php?p=6828679#p6828679
    [7] => https://forums.nicoclub.com/viewtopic.php?p=6828585#p6828585
    [8] => https://forums.nicoclub.com/viewtopic.php?p=6828196#p6828196
    [9] => https://forums.nicoclub.com/viewtopic.php?p=6826516#p6826516
    [10] => https://forums.nicoclub.com/viewtopic.php?p=6817538#p6817538
    [11] => https://forums.nicoclub.com/viewtopic.php?p=6817523#p6817523
    [12] => https://forums.nicoclub.com/viewtopic.php?p=6816376#p6816376
    [13] => https://forums.nicoclub.com/viewtopic.php?p=6816289#p6816289
    [14] => https://forums.nicoclub.com/viewtopic.php?p=6815931#p6815931
    [15] => https://forums.nicoclub.com/viewtopic.php?p=6815827#p6815827
    [16] => https://forums.nicoclub.com/viewtopic.php?p=6813910#p6813910
    [17] => https://forums.nicoclub.com/viewtopic.php?p=6813908#p6813908
    [18] => https://forums.nicoclub.com/viewtopic.php?p=6812167#p6812167
    [19] => https://forums.nicoclub.com/viewtopic.php?p=6812134#p6812134
    [20] => https://forums.nicoclub.com/viewtopic.php?p=6812127#p6812127
    [21] => https://forums.nicoclub.com/viewtopic.php?p=6812123#p6812123
    [22] => https://forums.nicoclub.com/viewtopic.php?p=6812115#p6812115
    [23] => https://forums.nicoclub.com/viewtopic.php?p=6812114#p6812114
    [24] => https://forums.nicoclub.com/viewtopic.php?p=6812112#p6812112
)

25
https://forums.nicoclub.com/viewtopic.php?p=6838477#p6838477
https://forums.nicoclub.com/viewtopic.php?p=6838193#p6838193
https://forums.nicoclub.com/viewtopic.php?p=6838069#p6838069
https://forums.nicoclub.com/viewtopic.php?p=6837950#p6837950
https://forums.nicoclub.com/viewtopic.php?p=6837949#p6837949
https://forums.nicoclub.com/viewtopic.php?p=6837788#p6837788
https://forums.nicoclub.com/viewtopic.php?p=6837576#p6837576
https://forums.nicoclub.com/viewtopic.php?p=6836931#p6836931
https://forums.nicoclub.com/viewtopic.php?p=6836930#p6836930
https://forums.nicoclub.com/viewtopic.php?p=6836929#p6836929
https://forums.nicoclub.com/viewtopic.php?p=6836192#p6836192
https://forums.nicoclub.com/viewtopic.php?p=6835750#p6835750
https://forums.nicoclub.com/viewtopic.php?p=6835747#p6835747
https://forums.nicoclub.com/viewtopic.php?p=6835741#p6835741
https://forums.nicoclub.com/viewtopic.php?p=6835643#p6835643
https://forums.nicoclub.com/viewtopic.php?p=6835445#p6835445
https://forums.nicoclub.com/viewtopic.php?p=6835433#p6835433
https://forums.nicoclub.com/viewtopic.php?p=6834977#p6834977
https://forums.nicoclub.com/viewtopic.php?p=6834955#p6834955
https://forums.nicoclub.com/viewtopic.php?p=6834953#p6834953
https://forums.nicoclub.com/viewtopic.php?p=6834464#p6834464
https://forums.nicoclub.com/viewtopic.php?p=6834462#p6834462
https://forums.nicoclub.com/viewtopic.php?p=6834135#p6834135
https://forums.nicoclub.com/viewtopic.php?p=6833554#p6833554
https://forums.nicoclub.com/viewtopic.php?p=6833541#p6833541
Array
(
    [0] => https://forums.nicoclub.com/viewtopic.php?p=6838477#p6838477
    [1] => https://forums.nicoclub.com/viewtopic.php?p=6838193#p6838193
    [2] => https://forums.nicoclub.com/viewtopic.php?p=6838069#p6838069
    [3] => https://forums.nicoclub.com/viewtopic.php?p=6837950#p6837950
    [4] => https://forums.nicoclub.com/viewtopic.php?p=6837949#p6837949
    [5] => https://forums.nicoclub.com/viewtopic.php?p=6837788#p6837788
    [6] => https://forums.nicoclub.com/viewtopic.php?p=6837576#p6837576
    [7] => https://forums.nicoclub.com/viewtopic.php?p=6836931#p6836931
    [8] => https://forums.nicoclub.com/viewtopic.php?p=6836930#p6836930
    [9] => https://forums.nicoclub.com/viewtopic.php?p=6836929#p6836929
    [10] => https://forums.nicoclub.com/viewtopic.php?p=6836192#p6836192
    [11] => https://forums.nicoclub.com/viewtopic.php?p=6835750#p6835750
    [12] => https://forums.nicoclub.com/viewtopic.php?p=6835747#p6835747
    [13] => https://forums.nicoclub.com/viewtopic.php?p=6835741#p6835741
    [14] => https://forums.nicoclub.com/viewtopic.php?p=6835643#p6835643
    [15] => https://forums.nicoclub.com/viewtopic.php?p=6835445#p6835445
    [16] => https://forums.nicoclub.com/viewtopic.php?p=6835433#p6835433
    [17] => https://forums.nicoclub.com/viewtopic.php?p=6834977#p6834977
    [18] => https://forums.nicoclub.com/viewtopic.php?p=6834955#p6834955
    [19] => https://forums.nicoclub.com/viewtopic.php?p=6834953#p6834953
    [20] => https://forums.nicoclub.com/viewtopic.php?p=6834464#p6834464
    [21] => https://forums.nicoclub.com/viewtopic.php?p=6834462#p6834462
    [22] => https://forums.nicoclub.com/viewtopic.php?p=6834135#p6834135
    [23] => https://forums.nicoclub.com/viewtopic.php?p=6833554#p6833554
    [24] => https://forums.nicoclub.com/viewtopic.php?p=6833541#p6833541
)

Datsun Pickup Truck Forums
The Datsun pickup started a mini-truck revolution when it landed here in the late 1950s, and while other manufacturers copied the Datsun recipe for success, the original Datsun pickups started a trend that is still with us today. So, whether you drive a 320, a 520 / 521, a 620 or a 720, you've found a home. We hope you enjoy your stay.

Follow along as Anthony shows you what the NICOclub.com autocross truck can do... Try and keep up!

Jerry rescues a $500 Datsun 521 from a life of obscurity and makes it awesome - Check it out!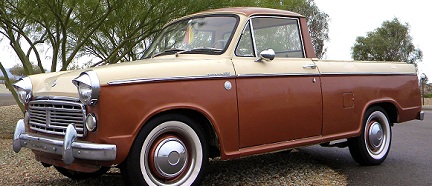 One of the rarest of the Datsun pickups, this NL320 serves "Sunday driver" duties while patiently awaiting its frame-off restoration.
Datsun Pickup Parts Resources